About The Funk Soul Brother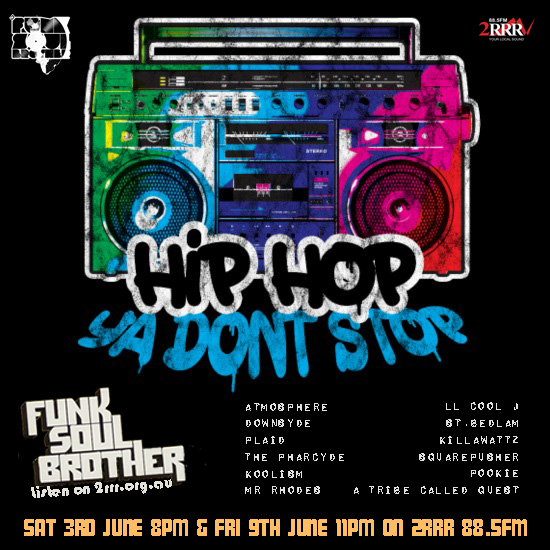 Kicking off your Saturday evening spinning a freestyle selection of soulful beats, rhythms and grooves.
From vintage funk, soul, hip hop, and boom bap, to new fresh electronic beats, old skool beats, and of course all things funky.
On this week's show featuring the best new local hip hop releases from the likes of INQ, POOKIE, Mr Rhodes, St.Bedlam, The 046, Denzel Kennedy feat. Ali The Great, Subliminal, Comar, Juwan, Kuzco, and Sampology.
Plus, new music from international artists, October London, Alan Braxe & Fred Falke, Sons of Ken, Jokios Kulturos, and LL Cool J.
As part of Sydney's Vivid Festival, I'll be playing tracks from both UK electronic outfits Plaid and Squarepusher who are appearing at the festival this year.
You can check out the show live at 2rrr.org.au, or via 2RRR 88.5FM on iHeart Radio or TuneIn Radio.
Check out the new FSB encore show, every Friday from 11pm to 1pm, right here on Sydney's 2RRR 88.5FM.
Check out more about the show here:
YouTube: https://www.youtube.com/channel/UCx_WqKJme6ClHx932X-LSXA
Spotify: https://tinyurl.com/44c9tf7r
Mixcloud: https://tinyurl.com/y8tzlykv
Instagram: https://tinyurl.com/yd63qb4y
Facebook: https://tinyurl.com/42dk5bby
Linktree: https://linktr.ee/djswanrock
AEDT: SAT 8PM – 10PM, encore show on FRI 11PM – 1AM
UK: SAT 9AM – 11AM, encore show on FRI 12PM – 2PM
US ET: SAT 4AM – 6AM, encore show on FRI 7AM – 9AM
Listen live on 2rrr.org.au
Listen live on TuneIn Radio – http://tun.in/sevN7
Feature length Wu-Tang Clan special show broadcast on The Funk Soul Brother Show to coincide with the Wu-Tang Clan appearing at the Qudos Arena in the Sydney leg of the "NY State of Mind Tour" on Saturday 13th May.
Featuring tracks from over 3 Wu-Tang albums, including some rarities regarding collaborations with Wu-Tang Group members, solo tracks from the likes of Ghostface Killah, RZA, Raekwon, Inspectah Deck, Ol' Dirty Bastard, GZA, remixes, and more.
Check out the show here …
The Funk Soul Brother Show – Wu-Tang Special by DJ Swanrock
---
View Program Playlist