About The Funk Soul Brother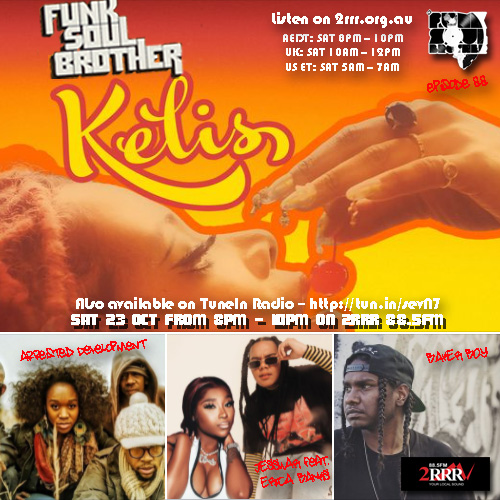 Kicking off your Saturday evening spinning a freestyle selection of soulful beats, rhythms and grooves.
From vintage funk, soul, hip hop, and boom bap, to new fresh electronic beats, old skool beats, and of course all things funky.
Spinning a selection of the latest hip hop, funk and soul releases for the week, including new 45's from Kelis, with the US artists first new release in 7 years, Arrested Development with new single collaborating with the legendary Big Daddy Kane, Fijian-Australian rapper Jesswar Sydney's Milan Ring, new single fresh of the debut album "Gela" from Baker Boy. Plus a host of new releases from Pouya and Denzel Curry, Bristol based Mr Fantastic, Ash The Author, Squid The Kid, iLUMiNATiVE, Nehi & Eveready, Cam Wallace, and Western Sydney's @ChillCheney plus much more.
Plus tunes from Jon Batiste, Method Man, Gangstarr, Mary J. Blige, Labrinth, Tinie Tempah, Skepta, and more tunes from Nightmares on Wax's forthcoming album release.
Returning to the show is the essential mix, with a selection tunes from breakbeat revivalist LONE, Australian producer and DJ Moktar , Los Angeles-based DJ and producer Wheez-ie, Brisbane based producer "Golden Vessel", and to top it off Brand new single from the Berlin-based producer Logic1000.
Come and join me DJ Swanrock on the mic, from 8pm tonight on Sydney's 2RRR 88.5FM.
YouTube: https://www.youtube.com/channel/UCx_WqKJme6ClHx932X-LSXA
Spotify: https://tinyurl.com/44c9tf7r
Mixcloud: https://tinyurl.com/y8tzlykv
Instagram: https://tinyurl.com/yd63qb4y
Facebook: https://tinyurl.com/42dk5bby
Linktree: https://linktr.ee/djswanrock
AEST: SAT 8PM – 10PM
UK: SAT 10AM – 12PM
US ET: SAT 5AM – 7AM
Listen live on 2rrr.org.au
Listen live on TuneIn Radio – http://tun.in/sevN7
Check out last week's show which is now available to stream online …
---
View Program Playlist